Do You Need To Use Self Storage Units?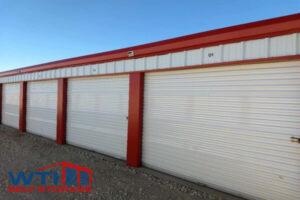 Are you looking for a place to store your belongings while you're away from home? Maybe you're moving, or you're just dealing with a lot of clutter in your life. Whatever the reason, self storage units could be a great solution for you!
Self storage facilities provide many benefits that can make them an ideal choice for storing items. These units can be used to store everything from furniture to clothes to collections of books and ornaments. In addition, self storage units are typically cheaper than other storage unit options, and they come with security features like locks and cameras that help keep your belongings safe.
Why Do People Use Self Storage Units?
A self storage unit is simply an indoor space where people can store items that they don't need everyday. This can be anything from furniture to clothes to tools and equipment. Units can be small – like in an attic – or large – like in a warehouse. They come in all shapes and sizes, so there's bound to be one that's perfect for your needs. There are many reasons why people choose to use storage units for their moving and long-term storage needs. Some reasons include:
- Having more space: Most people don't have enough room in their homes to store everything they own permanently. Self Storage allows them to store larger items outside of their home while still having access to them whenever they need them. Storage units can also be a good option for anyone who is renovating their home. These facilities offer safe storage spaces that are like your own basement or garage. They can be rented to keep extra furniture, equipment, or decorations.
- Having more control over their belongings: When someone stores items inside their home with the intent of selling them down the road, they run into two problems:
1) It's hard finding things when you need them because they're all crammed together.
2) If something goes wrong with any piece of furniture while it's stored inside someone's home (ie: it gets ruined), that person has no recourse because they stored it at home without proper protection (like insurance).
With self storage, customers have complete control over where their belongings are stored (inside or outside), what type of protection (if any) is provided by the company, and whether or not they plan on selling anything down the road.
What Are Things You Need To Consider When Deciding On a Storage Space?
No matter how much you might dislike the thought of storage, at some point in your life you're going to need to put away some things. Whether that's items you don't use often or things that you just don't have room for in your home, self storage units can be a great option.
Here are a few tips to help you decide when and where to use a self storage unit:
First and foremost, consider the unit size and space. If you only need enough space for small items, a self storage unit may not be the best solution for you. On the other hand, if you have a lot of extra furniture or large items that you don't need anymore but can't fit in your home or office, self storage may be perfect for you.
Next, analyze your storage needs before renting any units. Are there specific items that are causing problems – like piles of clothes that are taking up valuable space – or are there areas of your home that just aren't suitable for storing anything? Once you know what needs to be stored and where it should go, it's time to look into self storage facilities!
Another thing to keep in mind when looking at self storage facilities is security and safety measures. Make sure that the area where the unit is located meets your security and safety standards. Some units come with CCTV cameras and other security features so make sure those are included in your calculations when choosing an area.
Finally, consider monthly payments when renting any type of property – including self storage facilities. Make sure they don't exceed 50% of your monthly income! And be aware that some facilities require a minimum amount paid up front before moving any items into the unit.
All these factors should be taken into account when planning an upcoming staycation or moving period!
What Are The Advantages Of A Self Storage Unit?
Are you in need of a place to store some items temporarily? Maybe you're moving into a new home and need some room to put your things down, or you've just finished renovating and your old furniture just isn't fitting in your new space. Whatever the case may be, self storage facilities can be a great option for you.
Here are some of the advantages that using self storage units can offer:
- Self storage units can be located in any part of the country, so they're ideal for when you need access to them but don't want to carry all of your belongings with you.
- There are a variety of storage solutions available, including individual unit rentals, packages that include multiple units, and even large storage facilities that can accommodate multiple vehicles.
- Hiring professional movers can make the process much smoother and less stressful when you are getting your belongings out of the self storage unit. Not only will they help load and unload the unit onto their truck or trailer, but they'll also take care of boxing everything up for delivery back to your home or office. This gives you peace of mind knowing that everything is going to arrive safely at its destination!
Are There Any Risks In Renting A Storage Space?
Whether you are moving to a new home or looking for a place to store your things, you should know that there are risks involved when renting a self storage space. These risks include theft, water damage, pests, and even criminal activity at the storage facility. Fortunately, there are some steps you can take to minimize these risks.
First, you need to ensure that the storage facility you choose has proper security measures in place. It should be pest-free and clean, and include a monitored security alarm. You should also make sure that the storage space has a history of being maintained well.
Secondly, you should check the local crime rates in your area. If there are high rates of burglary or crimes against property, then the rental unit may not be suitable for you.
How Do You Choose The Perfect Storage Unit For You?
It can be tricky to choose the perfect storage unit for you. Depending on your needs and wants, you can narrow down your options. You can do your research to find a unit with the best features. Some of these options may include climate control, 24-hour security, and special promotions. A little extra effort can go a long way.
The right storage size can help you save time and money. There are many different storage unit sizes that you can choose from. Make sure to measure the storage space, and consider your needs before making a final decision. Taking the time to rent the right size unit could save you the headache of relocating your belongings later.
Additionally, you need to check the access hours of the storage facility that you are considering. You would want a storage unit with good access hours. It is advantageous to rent a unit that you can access at times that you are available.
Lastly, check the location of the different storage facilities on your list. A storage unit near you will make your life easier. If your storage facility is in a convenient location, you can go back and forth to the facility without having to travel a long way. In addition, the actual location of your unit will play a vital role in your comfortability. There are storage facilities with multiple floors, if you want easy access to your unit, you need to think whether you want a unit on the first floor or on a higher level.
What Should I Do Before Signing A Contract For A Storage Unit?
Before renting a unit, it's important to know the rental agreement in detail. Make sure to read the fine print so that you understand what is included and what is not. Also be sure to ask about any additional fees that may be associated with the unit – these fees can add up quickly! Also, make sure there is enough room for your items inside the unit and make sure there is proper ventilation for optimal storage conditions.
Don't forget to clean out your unit regularly – this will help prevent mold and mildew from growing inside the unit. If you have any questions about using self storage units or need help understanding any of the information above, don't hesitate to contact your storage facility.
What Are Space Saving Strategies For Your Unit?
There are a number of space saving strategies to help you make the most of your self storage unit. These tips will help you maximize your space and keep your belongings organized.
One of the best ways to maximize the amount of space you have in a storage space is to make sure you have a good layout plan. You can simply access your things in this manner.
A master list can help you remember everything that you have stored in your unit. You can store this list in the unit, or you can access it from anywhere.
Labeling your boxes is another important space saving tip. Make sure to label them on several sides. Your labels will make it easier for you to find specific items.
What Is Climate Controlled Storage?
Climate controlled storage is a great way to keep your items safe and sound from all of the elements that come with being outside. This is especially useful for your sensitive belongings. For example, antiques, medical supplies, and linens can all be preserved by using a climate controlled storage unit.
If you are thinking about storing your belongings for a long period of time, then you should consider the benefits of climate controlled storage. Most facilities will offer you the option of regulating the temperature. By doing so, you can create a climate-controlled environment that will protect your items from the harsh conditions that can occur in storage.
Many different types of items can be damaged by the heat and humidity that are present in a storage facility. Electronics, paper-based collectibles, and leather may be negatively affected by these factors.