Three Pointers for Storing a Motorcycle in a Storage Unit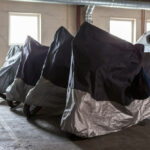 Like most motorcycle enthusiasts, you enjoy riding your bike as often as possible. However, there are times when bad weather or other circumstances prevent you from taking your bike out on the open road. When this happens, it's important to have a safe and secure place to store your motorcycle. A storage unit is ideal, as it will protect your bike from the elements and keep it out of the way until you're ready to ride again. Here are a few tips to help you get the most out of storing your motorcycle in a storage unit:
Choose a large enough unit to accommodate your bike and all your gear.
If possible, choose a climate-controlled unit to protect your bike from extreme temperatures.
Invest in suitable quality security devices, such as a heavy-duty lock and chain.
Cover your bike with a tarp or other protective cover before storing it in the unit.
Here are three pointers for storing a motorcycle in a storage unit.
Select the Ideal Bike Storage
You have to get creative when you don't have a garage to store your motorcycle in. Ideally, you want to find a storage unit that is large enough to fit your bike and all your gear but not so large that it will be difficult to access. The space should also be well-lit and clean, with easy access for loading and unloading. You'll also want to make sure that the unit is located close to your home or work so that you can quickly get to it when you want to go for a ride.
Start Getting your Motorcycle Ready
As the days grow shorter and the weather gets colder, many motorcycle riders begin to think about storing their bikes for the winter. If you're one of them, there are a few things you need to do to make sure your bike is properly prepared for storage. First, clean your bike thoroughly. This will remove any dirt, grime, or salt that could damage the finish over time. Next, change the oil and filter. This will help to prevent corrosion and keep the engine in good working order. Finally, inflate the tires to the recommended pressure. This will help to prevent flat spots from developing while the bike is in storage.
Cover and Secure
If you're like most motorcycle enthusiasts, your bike is more than just a mode of transportation - it's a work of art. Whether you're an avid collector or enjoy the occasional weekend ride, your motorcycle is an important part of your life. When it comes time to store your bike for the winter or during a move, you'll want to ensure it's properly protected. Here are a few tips for keeping your motorcycle safe in self-storage:
Cover your bike with a tarp or water-resistant material to keep it dry.
Place your bike on a pallet or other raised surface to prevent it from coming into contact with moisture or pests.
If possible, store your bike in a climate-controlled unit to protect it from extreme temperatures.
Use a heavy-duty lock to secure your bike to the pallet or other objects. This will help to deter thieves and keep your bike safe while in storage.