Should I Rent A Self-Storage Facility?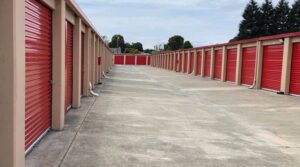 If you're decluttering your home or simply need more storage space, renting a self-storage facility might be the right choice for you. It can also be a great option for business owners who need to store extra inventory or equipment.
By the end of this post, you should have a good understanding of self-storage and why it might be the perfect solution for you.
What Is Self-Storage?
Self Storage is a great way to organize and store your belongings without having to deal with the clutter and chaos that comes from owning too many things. With so many sizes, options, and prices available, there's a storage unit that's perfect for you no matter what your needs are.
Many facilities offer insurance coverage and climate controlled units, which helps to protect your belongings in case of fire or theft. In addition, security features like alarm systems, video surveillance and gate access codes help protect your belongings from theft or damage.
Storage units can be rented for short or long term periods, and different payment options are available to meet everyone's needs. Many storage facilities also offer discounts for long term renters, military personnel, seniors, and more. Plus, storage facilities often offer special deals on monthly rentals or seasonal rentals.
So whether you're looking for a quick solution for storing excess clutter or you're looking to invest in a long-term solution that will save you time and money every month, self storage is an option worth considering!
Why Should You Use Self Storage Units?
There are many reasons why you should use self storage units – convenience, security, cost effectiveness, and flexibility are just a few. When you use self storage facilities, you can access your items quickly and easily from your home. Self storage units come with 24/7 security systems to ensure your belongings are safe.
Prices for storage units vary based on the size and type of unit that you choose, but it's generally cheaper than renting a warehouse or office space. You can store your items for short or long periods at an affordable rate, and the variety of units available means that you're sure to find what you're looking for.
In addition, self storage facilities often have climate controlled systems to keep your items in optimal condition for extended periods of time.
So whether you need extra space for a weekend trip or an entire year's worth of belongings, a self storage unit is the perfect solution!
What Are The Things You Need To Know When Looking For Self Storage Facility?
Living in a city can be incredibly convenient, but it can also be costly. Between rent, groceries, bills, and other expenses, having a place to store your belongings can be a lifesaver. That's where self storage comes in – it's an affordable and convenient way to store your things without having to sacrifice space or privacy.
When you're looking into renting a self storage facility, there are a few things that you need to know.
First, understand the costs associated with renting a self storage unit. Then, consider the convenience of having additional storage space. Depending on what type of security you need and how much you're willing to pay for it, there are several different types of self storage available.
Checking the access hours of the facility and if the facility has a drive up access will also be important in the long run.
Finally, compare self storage services to other storage options and figure out when is the best time to rent a facility. With proper planning and research, you'll be able to choose the right self storage unit that meets your needs and budget!
In addition to providing quality customer service, most self storage offer additional amenities such as climate controlled units or gated access that can make storing your belongings more convenient and secure.
What Are Things You Need To Consider Before Renting A Self-Storage Facility?
Storage is something that everyone needs from time to time, but many people don't know how to choose the right size facility or where to buy it.
First, you need to decide how much space you need. This will depend on a variety of factors, including the items that you store and the size of your home. Once you've determined your needs, you can start looking at storage facilities in your area.
The cost of renting vs. buying a storage facility is an important consideration. While buying a storage unit can be cheaper in the long run, it may not be a good option if you're not sure that you'll use it for long. Renting may be more expensive at first, but it could be much cheaper if you end up using the space for longer than expected.
In addition, storage facilities often offer additional services such as moving and packing assistance. So, it's important to take all of these factors into account when choosing which option is best for you!
You should also consider how convenient the facility is. If you're storing your stuff to move, you might want a facility that's close to your new place.
Before you reserve your unit of choice, it's best to ask people around or check online reviews for the people's storage experience. Some storage facilities may seem as if they have good amenities to offer but the renters may disagree.
In some cases, it's also worth looking at reviews to ensure that a facility is reputable and safe. You don't want to rent a storage unit from a company with a slew of complaints or a bad reputation for security and maintenance.
When selecting a self storage facility, make sure to look for security features such as video cameras and reinforced doors/windows. It's also important to consider what type of items are best suited for storing in a self storage unit – things like electronics or furniture may not be safe in a climate-controlled environment.
Finally, remember to pack and organize your items before moving them into your new storage space!
Should I Look For Security Features Of A Facility?
If you are storing important belongings, it is extremely important to make sure that your storage facility is well-protected. This will give you peace of mind and help prevent theft and vandalism of your items.
There are a number of things you can look for in a storage facility to help you determine their security capabilities and ensure that your items are safe. Here are some of the best things to look for:
Video Surveillance – Cameras are an excellent way to monitor activities at your facility and deter theft and break-ins. They can also be used to notify police and fire departments in the event of an incident.
Lighting – Many thieves prefer to work in the dark, so it's vital that the exterior and interior of a self-storage facility are well lit. This helps security cameras get a better quality picture and is a deterrent to thieves who may be trying to sneak in undetected.
Gates – The gate that leads to your storage unit should be secured by a keypad or card. It should be coded so that it only opens when a person uses a code to enter the correct entry. Some storage facilities even have electronic gates but these kinds of facilities may cost more.
The exit gate should be controlled as well, so customers can leave without fear of getting trapped by a thief. This will keep your facility and units safer, as well as help you track how many people leave the property each day.
How Do You Keep Your Items Safe While In A Storage Facility?
If you are renting a self storage facility, you may be wondering how to keep your stored items safe. Here are some tips for safely storing and protecting your possessions while using a self storage facility:
Always keep a lookout for burglars – Self storage spaces are high-risk areas for thieves because they're open to the public. Keep an eye on your belongings at all times, and if you see someone suspicious in or around the property, call the police immediately.
Lock your doors – Make sure that your doors are always locked when you're away from the unit, and never leave valuables lying around on display. This is especially important when storing items that are expensive or sentimental to you.
Secure valuable items – Keep expensive jewelry or other valuables in a safe location inside the unit, rather than leaving them unsecured on display. This will help to minimize losses if something happens while you're away from the property.
Protect against fire – Make sure all flammable materials are properly extinguished before leaving the premises, including furniture and electronics! Storage facilities cannot provide coverage in case of a fire; however they will do everything possible to help protect your belongings during an evacuation!
Get insurance – Even if you don't think that anything could happen while stored with us, it's always worth getting insurance just in case something does go wrong! Some storage facilities offer their customers protection up to $500 per item per occurrence, so it's important to investigate what kind of coverage is available before signing up. Compare different storage facilities before making any decisions about where to store your possessions - there's bound to be one that fits your needs perfectly!
What Is A Vehicle Storage?
A vehicle storage facility is a place where you can put your car, truck or motorcycle in a secure location for an extended period of time. This can be especially beneficial if you are looking to keep your vehicle safe from weather elements or other damage.
A secure car storage facility will have a gated entrance, alarms and video surveillance. These features help to prevent theft or vandalism from occurring at the property.
Some of these facilities also have on-site managers who are always watching the security cameras. This is a great benefit because it allows them to respond immediately if any threats arise.
A storage facility will also have a parking lot for you to park your car in. This can be paved, grass or dirt. It is a very affordable way to store your vehicle.
Is It Good To Rent Climate Controlled Storage?
When you have items which are heat sensitive, it is important to consider whether or not the facility you are renting has climate controlled units. This is especially important if you are storing items that can be damaged by extreme temperatures or excessive humidity.
The temperature and humidity in a storage unit can be extremely detrimental to certain kinds of items, such as antiques, electronics, fine art, and even precious jewelry.
Luckily, it's easy to find a self storage facility that offers climate-controlled storage.
These facilities often have increased insulation, which helps keep stored items less susceptible to flooding, pests, and dirt and debris issues.
While these extra features may be a bit more expensive, they are worth it in the long run, especially if you plan on storing your belongings for a significant amount of time. The peace of mind they give is well worth the extra cost, but make sure to do your research before you sign on the dotted line!
Try Renting One Today!
Self-storage is an easy and convenient way to store your belongings without sacrificing space or privacy. It is not only cost-effective, but also offers a variety of security measures, convenience options, and other amenities to protect your items. It is important to consider the size of the unit you need, the cost, the security features, and long-term use before selecting a facility that works best for you.
With some research and planning ahead of time, you can find the perfect self-storage solution that meets all of your needs!
1164 W. 47th Lane Fort Stockton, TX 79735
432-309-4933
Website: https://www.wtistorage.com/
Google Site: https://sites.google.com/view/wtistorage/